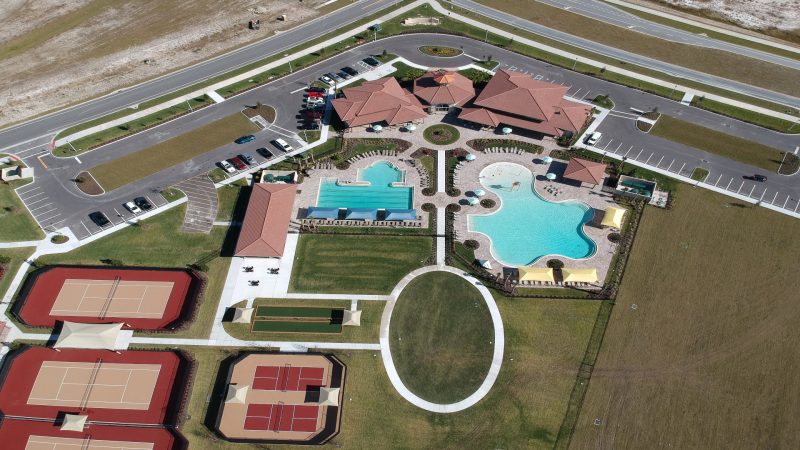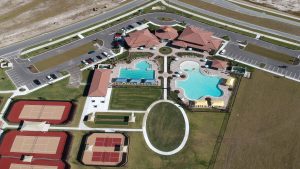 The New Addison Village Club in Viera, FL is opening in January 2020!
The new Addison Village Club is going to be opening in less than a month! The amazing brand-new facility is scheduled to have it's Grand Opening on January 2, 2012 at 9am.  If you can't wait until then, open house sneak peaks are going to be held on December 20th and December 21st at 9am!
The new facility will offer Addison Village residents resort-like amenities
The beautiful multi-million dollar recreational facility will offer residents of the Addison Village community resort-like amenities.  The indoor basketball court is complemented by several multi-use rooms and a spacious club room.  Outdoors, you'll find six tennis courts, two pickleball courts, a bocce ball court, and a croquet lawn. There is also a large family-style pool with a splash pad and a large bucket that dumps water, as well as a second pool offering four lanes for swimming laps.  An abundance of green space adds to the appeal for both the children and adults.
Club membership is an amenity for homeowners in the Addison Village area
Access to the club is provided as an amenity for those that live in the Addison Village communities of Trasona, Kerrington, Loren Cove, Reeling Park, Seville, Valencia, and Sierra Cove, and Stonecrest.  Although not formally part of the Addison Village area in Viera, Strom Park residents will also be given the option to use the facilities.
Watch aerial drone footage of the new Addison Village Club in Viera, FL
We recently visited the new facility and shot some aerial drone footage.  Needless to say, we were impressed with what we saw!
Contact us to learn more about Addison Village homes for sale
If you would like more information about Addison Village or the Viera area, including new construction and resale homes that are available for sale, please call or text us 321-514-9862 or email at Andy@BrevardHomesAndCondos.com.  If you prefer to search online, please visit our Viera site at www.SearchVieraNewConstruction.com.